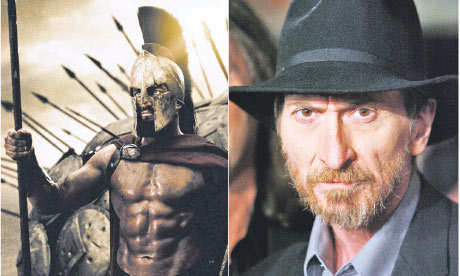 'A mindless, propagandistic storytelling medium' ? The film 300, left, and its writer Frank Miller. Photographs: Allstar/AP
A sturdy corollary emerges in the wake of?the graphic artist?
Frank Miller
's recent diatribe against the?
Occupy Wall Street
movement ("A pack of louts, thieves, and rapists ? Wake up, pond scum, America is?at war against a ruthless enemy"), available for perusal at
frankmillerink.com
). That corollary, of which we should be reminded from time to time, is this: popular entertainment from Hollywood is ? to greater or lesser extent ? propaganda. And Miller has his part in that, thanks to films such as?
300
and?
Sin City
.
Perhaps you have had this thought before. Perhaps you have had it often. I can remember politics dawning on me while watching a?
Steven Seagal
vehicle, Under Siege, in 1992. I was in my early 30s.?The film was without redeeming merit ? there's no other way to put it ? and it was about a "ruthless enemy" and the reimposition of the American social order through violence and rugged individualism. Why had I paid hard-earned money for it? Good question. Before Under Siege, I had a tendency to think action films were?funny. I had a sort of Brechtian relationship to their awfulness. And I was?amused when films themselves recognised the level to which they stooped, as Under Siege assuredly did.
Continue reading

"Frank Miller and the rise of cryptofascist Hollywood"