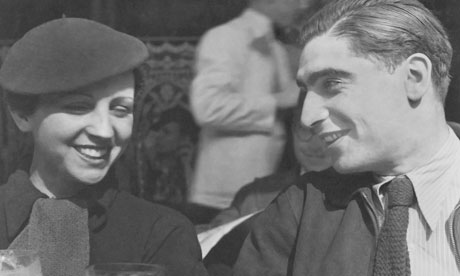 Gerda Taro and and Robert Capa: reinvented themselves and war photography. Photograph: Fred Stein Archive/Getty Images
It begins with a photograph. In 1934 a struggling Hungarian photographer, Andr? Friedmann, living in exile in Paris, is commissioned to take publicity pictures for a Swiss life insurance company's advertising brochure. On the lookout for potential models, he approaches a young Swiss refugee, Ruth Cerf, in a caf? on the Left Bank and convinces her to pose for him in a Montparnasse park.
Because she does not entirely trust the scruffy young charmer, Ruth brings along her friend Gerta Pohorylle, a petite redhead with a winning smile and a confident manner. So begins the most iconic relationship in the history of
photography
, and an intertwined and complex story of radical politics, bohemianism and bravery that, in the intervening years, has taken on the shadings of a modern myth.
Continue reading

"Robert Capa and Gerda Taro: love in a time of war"