It was an unusual mix. Two priests, a nun, two devout Catholics, and me, a heathen. We cooked and cleaned and shared small tasks, and important for me, I paid a rent of only eight pounds a week. I was never sure on what criteria I had been accepted into the 'community' but as I was working my way through university, I was happy to accept. We lived in the Catholic chaplaincy of Liverpool University, just opposite the Students Union Building. Living smack in the middle of campus also meant I had no transport costs.
There was no way my schoolteacher mum and government servant dad, could pay for their son's overseas education, so I was on my own and money was always tight. I worked weekends, holidays, and evenings to pay for my student fees and my keep.
Even in those spartan days, I would sometimes go to the 'Cabin', a popular nightclub, where myth has it that George Harrison wrote The Beatles' song 'Don't Bother Me', after being chased by press and photographers on his way there. The chaplaincy being relatively close meant that it was often used as a pit stop for friends before they headed home. Early hours of one morning, as two women friends and I were quietly getting in, we found Vincent Malone, the chaplain, doing chores, much later than usual. Worried about what he might make of two women coming in with me at such late hours, one of them explained, 'we're only going to the loo'. Vincent — he preferred being called Vincent, rather than Father Malone — smiled back charmingly, 'Oh we have a great loo you know. People come from miles to visit it.'
Living in the chaplaincy had financial benefits too. I worked as attendant in the basement car park, and even as barman or bouncer in the weekend discos at the chaplaincy. I must have been the smallest bouncer on record. We set up the International Students' Group, and other student bodies, and the chaplaincy became our informal office. I loved being part of the group and joined many events which may have been religious, but I felt were simply 'good' things to be doing. This included setting up a shelter for the homeless and other 'social' activities. I enjoyed the singing and the dancing with 'Lord of the Dance' being one of my favourites. I had never thought of it as a hymn.
Vincent, knowing I had money problems, would often send work my way and found other 'interesting' ways for me to supplement my income. It was the first time I was living away from home and having an older friend to consult and seek advice from, was important for me. He was generous, honest, and never attempted to influence me on religious matters. I would join the group on retreats. Once he took me aside to explain that there were some in the congregation who felt uncomfortable that I was receiving communion. I had only been trying to fit in, so it was no issue for me, but I respected the fact that he was concerned about me feeling rejected, while managing the sensitivities of his community.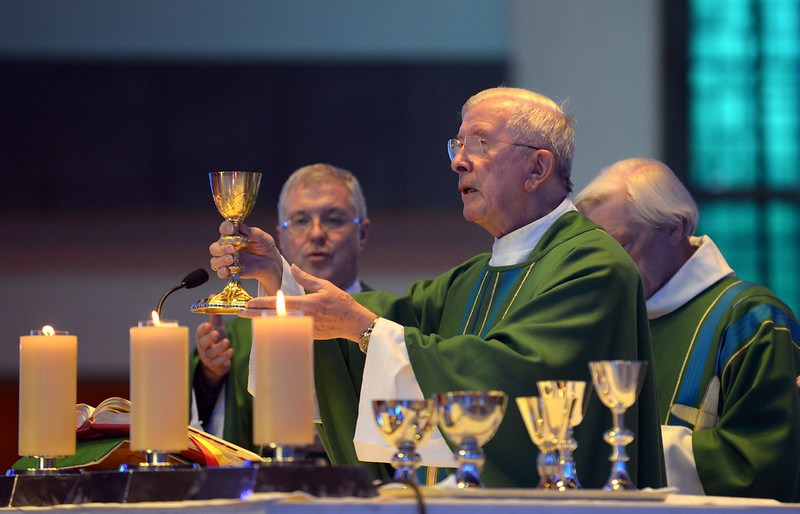 We hadn't really stayed in touch, having moved away to London to do my PhD after graduation, and then returning to Bangladesh. Years later, while Rahnuma was studying at Sussex, we drove to Liverpool to meet up with Vincent, but he wasn't there and our car, parked outside the chaplaincy, got broken into. So the rest of the day went in reporting the break-in to the police and getting the broken glass repaired, and we simply ran out of time. It was email that helped us connect again. Vincent had set up an email group called 'Thingy', and through it I met up with many of my old friends.
I read of the mass Vincent organised after the Hillsborough football disaster where 96 died, from the BBC's obituary. It was an outdoor mass, and he had used a megaphone. It was this improvisatory approach, his unassuming gentle manner, his humility, and his 'can do' attitude which made him remarkable, an 'unsung hero'.
When I was away in jail, Vincent had also set up a special mass for me. Earlier this month, I had reached out to him again updating him on what had been happening. Learning from his response that he was now in a care home, saddened me. I never realised it was to be our last conversation.
'Hello Shahidul
'What a splendid tribute to all your work! My own influence in this business is now less than zero as I languish in a Care Home called Christopher Grange, in Liverpool, without access to my tabletop computer.
'Nevertheless we continue, I hope, to pray for each other and for our friends of long ago.
'God bless,…Vincent'
He died yesterday, 18 May 2020, of coronavirus. Rest in peace my friend.
First published in The New Age