Abdul Quader Mollah has finally been convicted of war crimes committed in Bangladesh in 1971. Now a huge popular protest in Dhaka's Shahbag district is demanding the death penalty.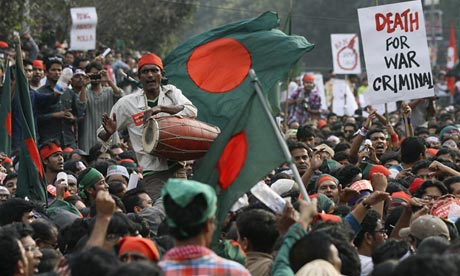 The Shahbag protesters resemble a jubilant flash-mob. Photograph: AFP/Getty Images
It all began with a victory sign. When Abdul Quader Mollah, assistant secretary-general of?
Bangladesh
's?
Jamaat-e-Islami
?party, emerged from the supreme court on the afternoon of Tuesday 4?February, he turned to the press waiting outside, smiled, and made a victory sign. An odd reaction for a man just sentenced to life in prison.
Mollah smiled because for him, a man convicted of beheading a poet, raping an 11-year-old girl and shooting 344 people during the?
1971 Bangladesh war of independence
?? charges that have earned him the nickname the Butcher of Mirpur ??
the life sentence came as a surprise
. Earlier this month, a fellow accused, Abul Kalam Azad, who is reputed to have fled to?
Pakistan
,?
was sentenced to death in absentia
.
Continue reading

"Shahbag protesters versus the Butcher of Mirpur"