Evidence? Ha. That's for humanists, scientists and who knows what other dangerous?ists. It's all about how we feel now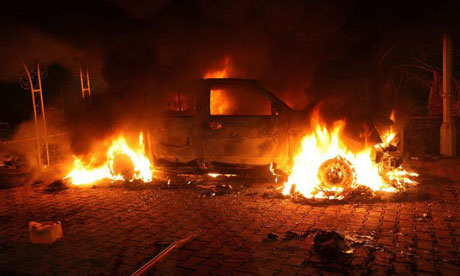 A vehicle and the surrounding area are engulfed in flames after it was set on fire inside the US consulate compound in Benghazi. Photograph: Str/AFP/Getty Images
Remember the Information Age? That was such an interesting period, when digital technology and the thirst for understanding converged to give the human race unprecedented access to heaps of revealing data, contemporaneous and historical. All you had to do was analyze the information without prejudice and the secrets of the world unfolded before you ? from the human genome to weekend crime in your town, from the value of the two-out stolen base to the origin of the universe.
But nothing lasts forever. Objective analysis is just so 2013. Facts are over, replaced by feelings and free-floating certainty. Sure, so-called Big Data will get bigger still, but only in service of targeted diaper advertising and spying on citizens. For everything that matters, as of now, we are smack in the Post-Information Age.
According to a?
Pew Research Center survey released last week
, 33% of Americans believe that evolution is a vicious rumor, opining that "humans and other living things have existed in their present form since the beginning of time". Genesis is their story and they're sticking to it.
Not insignificantly, rejection of science over religious mythology is distinctly partisan: 48% of Republicans, versus 27% of Democrats, "just say no" to Darwin. This explains a lot. The GOP failed four dozen times to undo Obamacare, but they're that close to repealing the Age of Enlightenment.
Evidence? Ha. That's for humanists, scientists and who knows what other dangerous?ists. Governance has become a faith-based initiative. When it comes to the most critical issues of our society ? the economy, climate change, gun violence ? it matters only what you believe in.
As the mid-term elections approach, watch as the square pegs of reality are pounded into the round holes of ideology. We saw a sneak preview last week after a
?7,000-word investigative piece in The New York Times
?revisited the 11 September 2012 attack on the US diplomatic compound in Benghazi,?
Libya
, killing four Americans. In the immediate aftermath of the incident, the administration ascribed the violence to anger over an anti-Islam YouTube video titled "The Innocence of Muslims". House Republicans smelled a rat, accusing to White House of covering-up an al-Qaida connection to the attack, one which might have neutralized the political benefit of Osama bin Laden's scalp in President Obama's re-election campaign.
Like the official?
State Department investigation before it
?(pdf), David Kirkpatrick's exhaustive reporting ? sourcing diplomats, eyewitnesses and many Islamic militants with zero interest in protecting the White House ? found plenty of intelligence and security failures, but no evidence of al-Qaida participation.
The immediate reaction of the conservative press?
?Attack
. They offered no counter evidence, merely summary dismissal. Since Kirkpatrick's analysis did not comport with the GOP's narrative as propounded by Congressmen Darryl Issa (R-California) and Mike Rogers (R-Michigan), there could be but one explanation, per the Fox News website headline:?
New York Times' Benghazi article a shameless bid to send Hillary to White House in 2016
.
The Washington Times, having done no reporting on the ground, went back to House Republicans to reiterate their suppositions. No evidence has surfaced putting foreign elements at the scene 11 September, but undisclosed classified intelligence, in the
?words of House intelligence subcommittee Chairman Lynn A Westmoreland
?(R-Georgia) "just leads you to believe, or to know that [the attackers] were al-Qaida-related".
Believe. Know. Same difference.
What makes this all so dangerous is that it not only corrupts policy debates, it undermines serious journalism ? and science and history and all other rational disciplines ? by rendering their output mere arguments, no more or less credible than someone's dogma, superstition or gut hunch. We snigger at conspiracy theories abounding in the Muslim world, blaming Israel for September 11 and sharks in the Red Sea, but how they differ from, say, climate-change denial, is lost on me.
Not to say faith-based politics is the exclusive province of the political right. Such organizations as?
Project Censored
?exist to call attention to, for instance, the "Top Censored Stories Corporate Media Won't Dare Touch" ? pretty much all of which, of course, have been plucked from the corporate media. Yet the idea of Big Media protecting and shilling for The Man is as much a commonplace of progressive ideology as "liberal bias" trope is on Fox.
Why? Because it is comforting to construct a personal reality when actual reality will not do. That is where astrology came from, and voodoo. Also Area 51 and supply-side economics. That's why we've slid into the Post-Information Age. It's going to be a rough patch for Darwin.
And even worse for Voltaire.